CHURCH OF ENGLAND
Kasauli in the year 1842 was set up as a retreat for the British army men and their families to beat the heat of the plains of India and weather conditions similar to England . Kasauli houses some of the most tastefully done up buildings reminding one of English architecture. The Church of England also known as the Christ Church also known as the Anglican Church, is the oldest church in himachal pradesh built and inaugurated on 24 July 1853. This church is dedicated to St. Francis and St. Barnabas,  designed in the emblematic Gothic style architecture.
Location: Near the bus stand of kasauli .
Timings : 9:00 am – 6:00 pm
Sunday Mass:  9:30 am
Exterior view of the church of england
Christ Church stands out as a magnificent creation drawing the visitor's attention with its appearance.Chestnut and fir trees surround this 159-year-old structure.Built in the shape of a cross, the church was built by the British families who also laid the foundation of Kasauli town in 1842. About 30 families, belonging to the Protestant Christians, worshiped here besides the tourists visiting the town. This historic church was previously under the Church of England when it was known as Anglican Church. In the year 1970, it was taken up under the organisation of the Churches of North India and is presently managed by the diocese of Amritsar.
Interior of the Church
The most breath catching feature of this church is the stained glass painting on the main wall above the altar depicting Joseph and Mary on either side of Jesus Christ .The glass of this painting was imported from Spain and Italy.
A beautiful story is illuminated when the sun's rays fall on this stained glass work. Another pair of stained glass paintings of Saint Barnabus and Saint Francis, attired in a gown with one hand gesturing towards God and the other towards the earth, is on the the left side .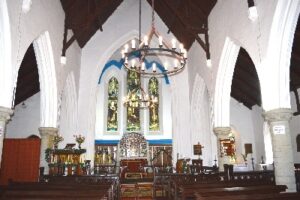 Historic Sun Dial.
A Sun dial showing the latitude and longitude fixed on a stone structure, for measuring time in those days, is still present at the church entry.
Historic Church clock
An eye catching 150yrs old clock is mounted on top of the church with an antique dial. Made by WH Bailey and Company Salford, Manchester. The clock has started ticking again after a long restoration process.The clock of the christ church in kasauli stood still for more than 20 yrs.

        Christ church kasauli celebrates its 173 years.
                                    movie Zero Shooting.
Pre Wedding Photo shoot in the church premises.