Places to eat in the Heritage Market Kasauli.
The lush green hills, the misty lanes, the serenity kasauli, one would definitely fall in love with this hill station.Beautiful vintage buildings,cobbled pathways, blooms of spring, chirping birds, monkeys having fruits and lazy yet ever so cute dogs taking a stroll down the pine mall – it all feels picture perfect. Cosy cafes, alluring momo shops and some really inviting food joints, there is a lot to choose from if you are searching for the best restaurants in kasauli. Choose to treat yourself to some uber delicious Nutella Nut Crepes and Grilled sandwiches of Cafe Rudra , there are many eating options in kasauli. One can take a walk down the heritage market in kasauli and choose from them.
Cafe Rudra
The most iconic cafe in kasauli the cafe rudra that serves the best coffee in kasauli's heritage market ,this cafe is becoming more and more popular among the younger generation for its food and music. The walls of this restaurant are very eye catchy.
This place is known for their Nutella Nut Crepes and Grilled sandwiches .Their main aim to provide Visitors and Residents of Kasuali with a quality food. Situated in the Heart of Kasauli Market Provides Healthy and Hygienic Food which was a definitive longing of people and visitors of Kasauli.Their Moto is Solitude with Senses
TANNU BUN SAMOSA
Tannu bun samosa shop is more of a landmark rather than just a bun samosa in the heritage market of kasauli. Aloo tikki and jalebis are to die for. This shop was frequently visited by many personalities as photos displayed on the shop walls. Rated among the top eating joints in kasauli can be proven by the ratings displayed on the walls by trip advisor members.
Late Khushwant singh was a regular customer and often mentioned about this shop in his articles.Film and TV celebrities can also be seen here. This place has also been covered by NDTV Good Times. The bun smosa is described here as the poor man's burger and truely one bund samosa is adequately decent enough to fill your tummy. The bun is split and filled with samosa, choley and 2-3 different chutnis.
Sapnas Tibetian Kitchen
Situated in the pine mall is this small tibetian cafe serving you much loved momos and thukpas. The place offers delectable Tibetan food and Chinese food. This is often flocked with tourists so you may have to stand in a que to try your favourite delicacies.
This shop is home to almost everything that the tibetian cuisine of this area has to offer in its most rich, splendid, authentic form with a flattering variety of options. What is impossible to miss in this shop includes Momos, Thukpa, Wonton, Gyathuk,Thenthuk and more. Run by a tibetian couple Sapna and her husband has a lot to offer you.
Cafe Mantra
Mantra cafe serve yummy oriental dishes and parathas. This is the best place to grab a quick bite when in Kasauli. The atmosphere is chilled with a great soundtracks playing the background. The food is great quality price. On the top floor one finds a mirage of notes on the walk written from travellers and visitors from around the world just how great this cafe is.
Hang Out Roof Top Bar
You cant miss this place if you are kasauli .The food, the view, the charm and the bliss get the right blend at Hangout.
Gorgeous rooftap bar with amazing food followed by a great Headphone dance party makes it a truly enjoyable and a unique experience.
Ross Common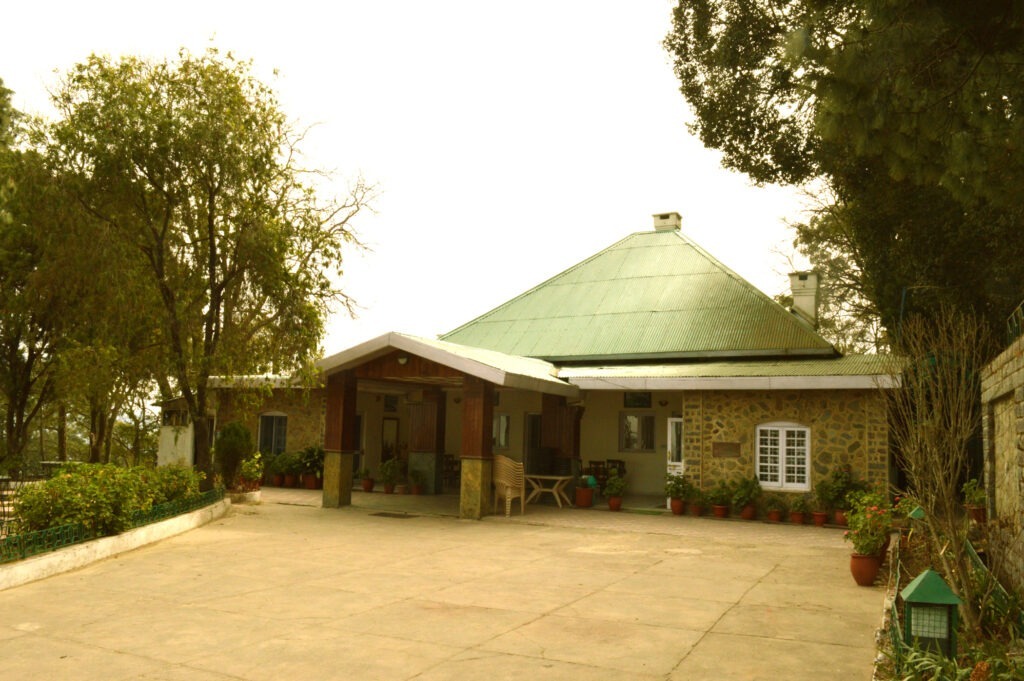 Ros Common is a heritage hotels of Kasauli to witness an elegance of a bygone era in Kasauli . Situated on the lower mall in a perfect scenic location it offers solitude to its guests and is run by the Himachal Tourism corporation. It can be a perfect eating option in kasauli with family and friends .
Ross common has an outdoor eating area in a very scenic location.One can enjoy their meals with a perfect backdrop of the Snow capped mountains. This colonial bungalow provides an old world charm to truly savour Kasauli.
La Pinekonez Kussowlie
In himachal people are most hospitable, and inviting a just met person home is a way of life here. The host offer's whatever food there is available in their home, as its a belief here that a guest should not leave their home without eating. Cuisines of kasauli are spicy. The local food of kasauli mainly consist of vegetarian food, with a mix of cinnamon, cardamom, cloves and red chillies .La pinekonez is the best place to eat traditional himachali home cooked food in kasauli. Fresh homecooked food is offered to the guests on top of a machan in a candle light.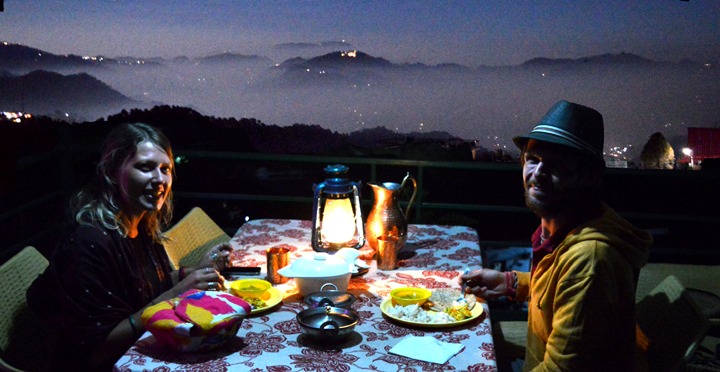 Siddu : Made from wheat flour, Sidu is a local dish of Kasauli Himachal Pradesh. The method of preparation of Sidu involves filling the dough with fat and put on the direct flame. This partly cooked dough is then steamed to keep the taste and nutrients of the ingredients intact.
Meetha : Meetha is the sweet dish prepared on special occasions. It has sweetened rice mixed with dry fruits and raisins.
Tadkiya Bhat: Tudkiya Bhat is the authentic pulao of kasauli that locals cook in their own way. This dish is cooked with Indian spices , potatoes and yoghurt along with onion, tomatoes, garlic, cinnamon, cardamom provides an extra flavour.
Dham : Dhaam is a complete package of himachali dishes. The dish includes dal, rajma, rice, curd, Kadi and is very well complemented with jaggery. This is served on the festivals and other occasions.Dham is a traditional festive meal that is prepared by Brahmin chefs known as Botis, a brahmin caste also who are hereditary chefs.
Kukdi ki roti and Saag : Kukdi ki roti is made out of maize flour on a chulla. It is similar to the makki ki roti. It can be consumed with sarson ka saag or dal.
Patande: A popular breakfast dish of Solan and Sirmour district, Patande which is a himachali pancake.Made from wheat flour, poured on a ghee laden hot tawa .
Askuli : This is made from rice powder mixed with flour into liquid form. Then the liquid is poured into a hot stone tawa with deep carved round holes on a chulla. Askuli is consumed hot with black dal and ghee.
Poode: This is made from a batter of wheat, jaggery syrup (gud) which is then shallow fried in ghee or oil.
Revitalise your mind and body with a Green Ginger Tea made of cinnamon, ginger, green tea bags, spices, sugar and milk. Guests are requested to book the table well in advance in order to avoid inconvenience