MONKEY POINT |MANKI POINT KASAULI
Monkey point (manki point) is situated in air force area of kasauli and has certain Do's and Dont's .
1. No cell phones, camera pendrives , radios binoculars are allowed.
2.No eatables , carry bags , remote sensing keys are allowed.
3.This area is open from 9 AM in the morning to 4 pm in the evening. 4.Carry your ID card for entrance .
It's a worth visiting place as you get an aerial view of the plains on one side and mountains on the other.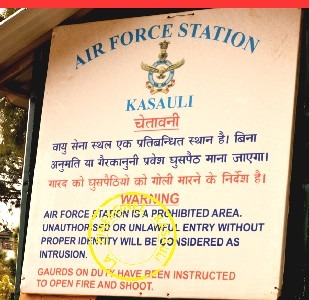 About Monkey point kasauli
Monkey point kasauli is one of the highest point in kasauli. It is ranked among the top attractions in kasauli and also among the top places to visit in kasauli. Monkey point is at a distance of 4 kilometres from the main town of kasauli. This hilltop has a small temple dedicated to Lord Hanuman. Being the highest point in kasauli, the hill top has some scenic views to offer. You can capture the bird's eye view of the nearby cities of Chandigarh, Kalka, and the dhauladhar ranges on the other side from this hilltop.
How to Reach Monkey point
You can drive upto the main gate of the airforce station and also Local Taxis are available in the main kasauli market. The local taxis would charge you 200 indian rupees. After going through a brief security check up at the airforce main gate you have to walk up to the monkey point. It is a steep 1 km uphill walk so it can be a real adventure for trekkers.
Height of Monkey Point kasauli
Monkey point is situated at an height of 6500 mtrs above sea level.
Best time to visit Monkey point Kasauli
Since Kasauli is an all time favourite amongst the tourists so the monkey point can be visited any time of the year.
DECEMBER TO MARCH : One must carry heavy woolens as the weather can change any moment.
APRIL TO JULY : One must carry light jacket or a shawl and t-shirts.
JULY TO SEPTEMBER: An umbrella is a must as it's rainy season. Light jacket and shawl would be recommended.
FOREST FIRE AROUND MONKEY POINT
A severe forest fire broke out around monkey point kasauli today on the 26th may 2018. Forest fires are common in kasauli durind the summers. Monkey point being an air force base , Air force chopper sprinkling water from bucket to extinguish the fire .